Sunwaves Festival: SW21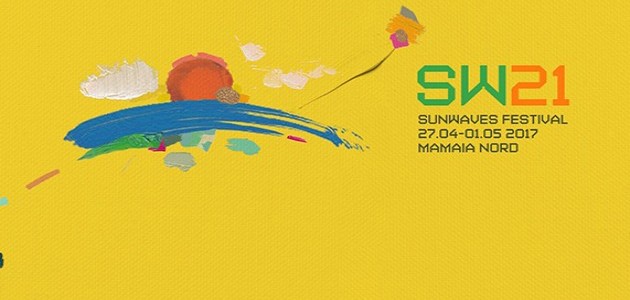 Mamaia Nord, Constanta
Web: http://www.facebook.com/e...
Hello dear friends,

We gather again for great moments spent together at the 21st edition of Sunwaves festival.

We start on Thursday, 27th of April and we go on till late Monday, 1st of May 2017 :)

The location of the festival is in Mamaia North, same place as last year. If you are looking for accommodation look around Crazy Beach or Summerland Apartments as a point of interest.

Tickets can be bought online from http://tickets.sunrise.ro/ for the price of 189lei for the whole festival. Make sure you read the rules down below.

Expect the Sunwaves experience.
See you on the beach!


▬▬▬▬▬▬▬▬▬▬▬▬▬▬▬▬▬▬▬▬▬▬▬▬▬▬▬▬▬▬▬▬▬

SUNWAVES x LINE-UP

(in alphabetical order)

Abelle, Alex & Digby, Alexandra, Amir Javasoul, Apollonia

Arapu, Barac, Bill Patrick, Cally, Cap, Cezar, Chad Andrew

Charlie, Clovis, Cristi Cons, Dan Andrei, David Gtronic

DeWalta & Mike Shannon (live), Dubtil, Faster, Gescu,

Getic Funk (Piticu, Xandru, Funk E), Guti (live), Hector, Herodot, Ion Ludwig,

Javier Carballo, Jesse Calosso, Joey Daniel, Kozo, Lamache,

Livio & Roby, Loco Dice, Maher Daniel, Mahony, Marc Antona,

Marco Carola, Mihigh, Nastia, Neverdogs, Nu Zau,

Petre Inspirescu, Praslea, Priku, Rainer, Randall M,

Raresh, Rhadoo, Ricardo Villalobos, Sepp,

Seth Troxler, Sonja Moonear, Subb-an, Sublee

Suciu, The Martinez Brothers, Thomas Melchior, tINI

Vincentiulian, Vlad Caia, Vlada, Zip

____

Visuals by Cote, Dreamrec, Pareidolia, vLoop


SUNWAVES x TICKETS INFO

✔ For this edition we will sell just one type of ticket #FestivalPass which grants you access from Thursday, 23:00 till Sunday 23:00. If the festival continues past this hour you can stay for free only if you have a valid wristband.

✔ Tickets sold in advance are in a limited number and you can buy them till 25.04.2017. If sold out, you can still buy tickets at the door, but just for each night of the festival.

✔ We are responsible just for the tickets bought from our shophttp://tickets.sunrise.ro/ Don't let yourself scammed.

✔ Please keep the wristband intact throughout the festival. With the wristband you will have access to all the night time & daytime parties. You will be asked to pay again if you damage, loose or transfer the wristband.

✔ Please take your time and read our Terms & Conditions / Rules for the festival.
RO: http://sunwaves-fest.ro/legal/SW21-Termeni-si-conditii.pdf
EN: http://sunwaves-fest.ro/legal/SW21-Terms-and-Conditions.pdf


SUNWAVES x INFO

•• Festival Location

SW21 will take place in Mamaia North, on crazy beach. The exact location can be found here: http://bit.ly/Sunwaves1stofMay

•• Local Info

#Currency: 1euro ± 4.5lei | 1 dollar ± 4lei | 1 pound ± 5.7 lei

#Weather: The weather can be very tricky at the beginning of May, hot days and cold night so make sure you dress up properly.

#ATM: There are no ATMs in the festival ground, but you can pay with your card at the bar. If you need cash, ATMs can be found in walkable distance from the festival.

•• Table service

In the night time tents there is a designated area for tables. To book a table, please call our colleague Betty - +40 722 795 184

•• Festival rules

RO: http://sunwaves-fest.ro/legal/SW19-termeni-si-conditii.pdf
EN: http://sunwaves-fest.ro/legal/SW19-terms-and-conditions.pdf

•• Access

Access is forbidden for people under 18 yrs old.