THE BOHEMIANS - music & travel festival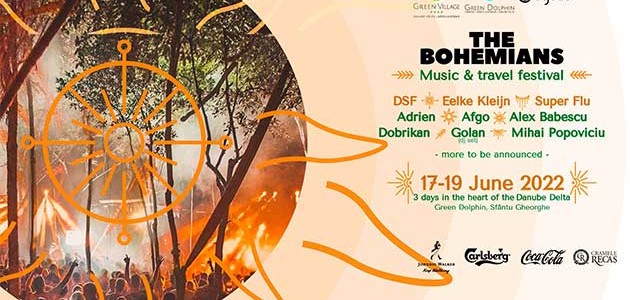 Green Dolphin Camping,
Web: https://www.facebook.com/...
THE BOHEMIANS
- music & travel festival

Do you love art and beauty?
Is nature your home?
Do you dislike conventional rules of behavior?
Are you longing for music and dancing?
We do too.
We can play music.
We can dance.
But you want more.
You want something and someone new.
We do too.
Come find the Bohemian inside you in one of the wildest places in Europe.
Let's travel to the Danube Delta this summer for 3 days and 3 nights of love, music and nature in Sfantu Gheorghe, right where the river flows into the sea.
Artists ( in alphabetic order):
Adrien
Afgo
Alex Babescu
Dobrikan
DSF
Eelke Klejin
Golan - dj set -
Mihai Popoviciu
Super Flu
- more to be announce -

Tickets (for all 3 days):
Promo: 99 lei ( only 100 passes)
Early Bird: 150 lei ( limited to 200 passes)
Second Release: 200 lei
Last Release: 250 lei
Link: https://www.kompostor.ro/11788
How to get there?
* by car up to Murighiol or Tulcea, where you can transfer to a boat
* by bus (Eurolines) to Murighiol and then by boat
We will soon update this section with all the transfer options & travel times.

Where can you stay?
* at the festival site, within Green Dolphin Camping:https://www.dolphincamping.ro
* at the Green Village 4 star resort: https://www.greenvillage.ro
* at a guesthouse or private house in the village of Sfantu Gheorghe
In order to book accommodation you haft to send an email after you purchase your ticket, with series & number at:
Green Dolphin Camping: events@greenvillage.ro ( only for tents @ Camping area)
For Green Dolphin ( Woden Houses ) + Green Village Resort use this link: https://www.greenvillage.ro
* select the period 17 to 20 june and add the promotional code: Bohemian
Prices Strats from:
10 euro / night at tent ( 1-3 persons)
16 euro / night at tent ( 4-6 persons)
22 euro / night for 2 persons at wooden cabbage
Entrance age: over 18! We reserve the rights to select our customers. We are always looking for a unitary audience with common passions & interests lovers of music art and life in general. Good vibes only!
In the festival area ( Green Dolphin) you can't bring drinks & food from outside!!
More info soon!